Public health dentistry
OVERVIEW
St. Gregorios dental college, Chelad has a well-established department of Public Health Dentistry. The key tasks of this department are to provide quality dental care, to spread oral health awareness and to motivate people to adopt oral hygiene measures. To achieve this, the department of public health dentistry runs and maintains satellite clinics in and around Kothamangalam and Puthencruz. Satellite centre in Keerampara St. Stephans HSS is first of its kind in Kerala.The Puthencruz clinic was founded in 2008. The nodal centers are overseen by efficient and committed faculty members of the department.
INFRASTUCTURE
The department is equipped with 8 chairs for the undergraduate training programme which deals with preventive procedures which can be applied in clinical situations and recording indices.
ACADEMICS
"Prevention is better than cure" in every possible aspect. To reduce the suffering, disability, handicapped and unnecessary expenditure for any country, the best method is prevention. Undergraduates are posted and this expands their clinical opportunities and productivity. This is a separate section which is part of community dentistry. Patients and visitors coming to the college are benefited from it as it gives useful information about common oral problems, their prevention, treatment etc. They are also taught how to take care of oral hygiene, misconceptions about disease etc. in the regional language.
PROGRAMS INCLUDED
FREE ORAL HEALTH CAMPS
Treatment and screening camps comprise the main agenda in the activities of our department. Free oral health camps are conducted in association with schools, IDA, NGO's, Voluntary service organizations and local clubs. The camps offer preventive and restorative treatment procedures and provide a forum for carrying out dental health education programmes. We make the best use of audio visual media to educate and motivate the masses through these camps. The institution is responsible for caring for dental needs of regular as well as special children.
Field programs
Assessment of oral health status of the community using WHO proforma.
Preparation of oral health education materials like posters, models, stage plays, skits, lectures.
Understanding community health problems.
Visits to primary health centers, water purification units, waste disposal units, water recycling plants, incineration plants, rural satellite centers run by the institutions.
Organization of community oral health programme and school dental health programme.
Oral and dental treatment camps for rural and semi urban populations.
Rural center postings for the interns.
WHO and door –to-door health surveys for interns.

Department of Public Health dentistry has a portable dental chair with well equipped mobile dental unit. The mobile dental van is equipped with dental chairs which caters dental services to rural people. The department of public health dentistry along with departments like Prosthodontics conducts denture camps in old age homes nearby, and along with Pedodontics in schools, and also in tribal areas like Kuttampuzha. This department is authorised by the surrounding Panchayats, Kuttampuzha, Kottappady, Pindimana and Keerampara as their Oral health care partner. This department conducts CDE Programs on a regular basis.
---
Faculties
Dr. Supreetha S
Reader and Head of Department
More Details
Dr. Anzil K S Ali
Senior Lecturer
More Details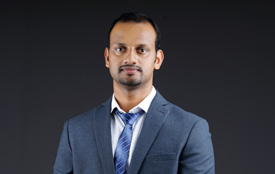 Dr. Kiran Mathai
Senior Lecturer
More Details