Periodontology
OVERVIEW
Department of Periodontology is a clinical speciality which deals with the diagnosis and treatment of pathological conditions related with gums and surrounding supporting structures of the tooth. The department provides periodontal education to the undergraduate students.The periodontal education is provided through didactic courses and preclinical laboratories.
INFRASTRUCTURE
Comprising of anundergraduate clinical area where in the best of dental technology is incorporated intoa state of the art practice. Equipped with high end armamentarium in clinical areas, we at SGDC aim to deliver the best in both education and patient care.The clinics are furnished to train 50 undergraduate students.
Our department is equipped with seventeen modern chairs fitted with ultrasonic scalers, electrocautery, prophyjet, surgical kits, centrifuge,physiodispenser, implant kits and strict sterilization protocols are ensured for the patients.
We aim for excellence in clinical care and endeavour to train outstanding clinicians and future faculty.The department is endowed with experienced and dedicated faculty to cater to all student and patient requirements.
The goal of periodontal education is to educate dental students to be competent in recognizing and diagnosing periodontal diseases and providing periodontal therapy to their patients. In the department of periodontics , this competency is measured through their performance on didactic examinations and through clinical performance assessements on various types of periodontal procedures the students perform in the clinic.
BDS
Lectures
Group discussions
Chair side discussion
Demonstration
Practical classes


TREATEMENT
The various treatment modalities rendered in our speciality includes scaling & root planning, patient education and motivation, gingival curettage, gingivectomy&gingivoplasty, crown lengthening, depigmentation, flap surgical procedures, mucogingival surgeries, resective and regenerative osseous surgery and placement of implants to replace the missing teeth.
The department offers insight into analysing the diseases of the gums, assessing the diagnostic data and ensuring that the undergraduate students are capable of diagnosing and treating periodontal disease.
---
Faculties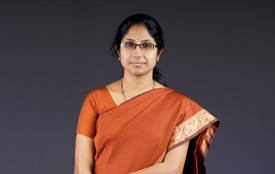 Dr. Anila S
Professor and Head of Department
More Details
Dr. Swaroop Chandy
Reader
More Details
Dr. Annie V Issac
Senior Lecturer
More Details